I use a bronzer on most days when I do my makeup, to give a bit more life to my fair skin. I don't really apply a bronzer all over my face, but rather as a soft contour ("brontour") to bring some color. I intensify my bronzer application in summer, when I finally get a bit of a tan.
My favorite bronzers I used in 2020, which I will still be using this year, differ in intensity so I can customize my shade over the year, depending on my skin tone:
Soleil Tan de Chanel
This is the only cream bronzer of the bunch. While a permanent product, it has been recently reformulated and renamed "Les Beiges Crème Belle Mine Ensoleillée". I own the original formulation, which I love. I don't know how it compares to the new formulation, but I heard the original was better. Soleil Tan only comes in one shade.
Chantecaille Real Bronze in Sirena
As far I as can remember, this bronzer was a limited edition from the 2019 summer collection. It is sold out in Europe, but it seems to be available again on the U.S. Chantecaille website and Harrods too. Who knows? Maybe the brand will bring it back again to the European market for summer.
Marc Jacobs Omega Bronze in 104 Tan-Tastic
It comes in three shades and I have the lightest one, called Tan-Tastic. It is a permanent product, widely available especially at Sephora.
Charlotte Tilbury Filmstar Bronze in Light to Medium
I got it as a special edition set when it came as a duo and coupled with a powder coral blush called Glow. The permanent version of the bronzer comes in duo with a highlighter (mini version of the compact launched for the 2020 Holiday presented here) and in two different shade options: Light to Medium and Medium to Dark. Another widely available bronzer, especially on Charlotte Tilbury's website.
Hourglass Ambient Lighting Bronzer in Nude Bronze Light
The Ambient Lighting Bronzer is permanent and available in four different shades on Douglas and Feelunique.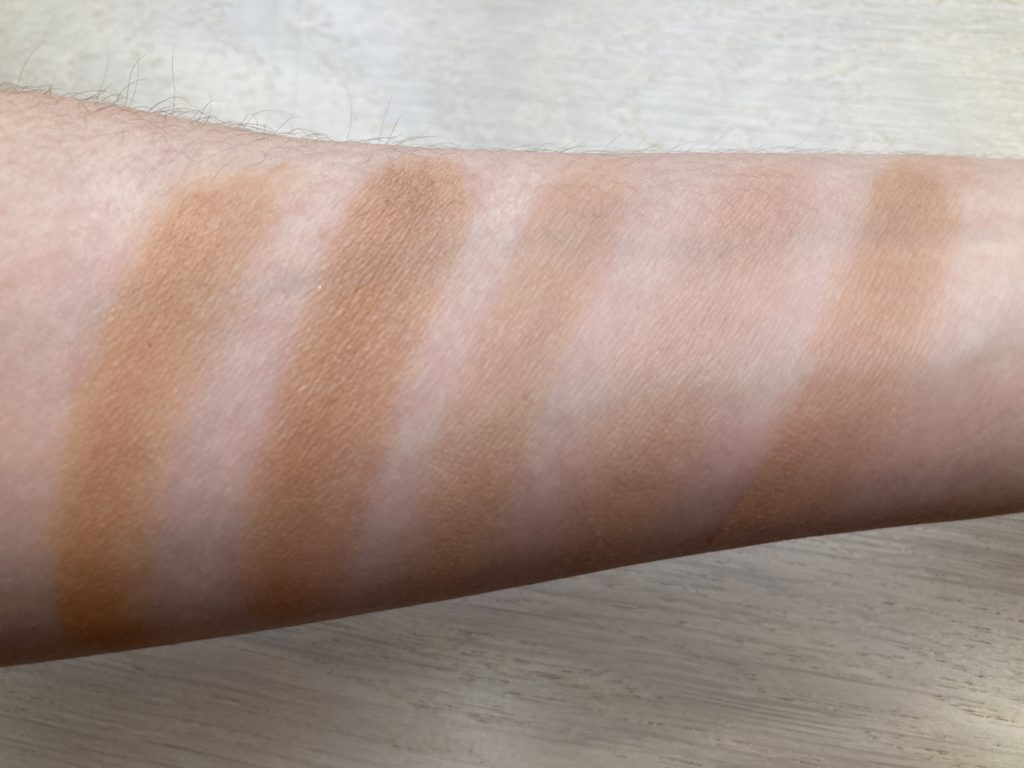 All bronzers have different intensities and a neutral undertone, except Soleil Tan de Chanel (swatch #1) which is warmer. And all except the Marc Jacobs Omega Bronze Tan-Tastic (swatch #3) contain micro glistening particles which gives a subtle and natural glow (no shimmer) to the face.