I recently posted on Instagram (@the_beauty_traveler_) saying I was trying the Supergoop! CC Screen SPF 50 and Glow Screen SPF 40. Initially, I thought I would write a combined review but after testing out the CC Screen, I concluded I needed more trials and time before I would be ready to write a review on this one first. You will understand shortly why.
I ordered the Supergoop! CC Screen from the U.S. Revolve website. It comes in 15 shades, which is great for a CC (sun)cream. I went for the 105N as described as "fair with neutral undertones".
This is the description of the product on the website:
"Supergoop! CC Screen SPF 50 is a super gentle, antioxidant-rich formula that delivers instant luminosity, evens out skin tone and protects from UVA and UVB rays with 100% mineral sunscreens. Suitable for all skin types, even sensitive skin, its lightweight, hydrating texture provides full coverage for a flawless-looking complexion. It's 'makeup meets skincare' for everyday, leaving your skin with a fresh, natural finish."
I had high hopes that the Supergoop! CC Screen would be as it is described. After several days of trying it out multiple ways, I have unfortunately to disagree with the brand's description. I don't argue the sun protection properties, neither that it is suitable for sensitive skin as I didn't have any reaction while using it. However, I don't agree with the other features the CC Screen is supposed to have.
What stroke me first is, as soon as you start to spread the cream it becomes white! Yes, the pigments (and I find the shade I chose too light for my skin tone) of color kind of disappear and I am left with a thick white cast. It absolutely defeats the purpose for me. I indeed bought it in order to use it alone when I don't want to wear actual face makeup but still want to have an evened out complexion. The pictures above don't really show how white it gets, but trust me it does get white. Not sure the same happens with the deeper shades though.
Further, on its own I don't find that the CC Screen is lightweight nor hydrating. On the contrary, it is rather thick and not easy to spread on the skin. It is not hydrating at all. In fact, on my dry skin it looks matte and clings on even the tiniest dry patches. The CC Screen might work better with oily skin though. Finally, I think I could indeed get a full coverage with it but it would be mean that my face would be covered by a white mask!
I didn't want to stop here and did some experimenting with the goal to make it work for me somehow and… I am happy to report that I was successful!
I pulled out a few of my face products I thought may work in combination with the Supergoop! CC Screen. After some extensive testing, I have two winners that both happen to be products from Drunk Elephant: D-Bronzi Sunshine Serum and Umbra Tinte SPF 30.
Mixing the Supergoop! CC Screen with each of them helps both for spreadability and color.
Top: Supergoop! CC Screen mixed with D-Bronzi
Bottom: swatch of D-Bronzi on its own
Mixing the two makes the CC Screen easily spreadable and it solves the issue of the white cast. With D-Bronzi, you can customize the shade you want to achieve.
It provides a nice bronzy and glowy light coverage. It also feels hydrating. The only con is that D-Bronzi doesn't contain any sun protection, therefore it dilutes the SPF property of the CC Screen when mixing them together.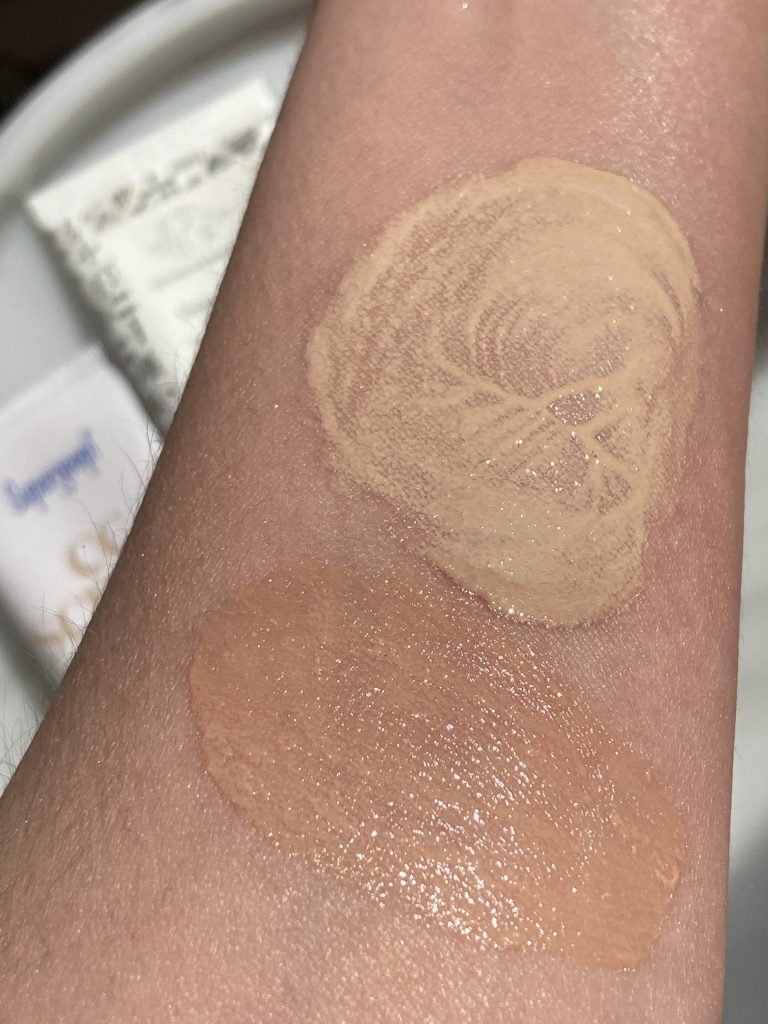 Top: Supergoop! CC Screen mixed with Umbra Tinte
Bottom: swatch of Umbra Tinte on its own
Mixing the CC Screen with Umbra Tinte also makes it more spreadable. It provides a nice light beige-caramel hue. Unlike with D-Bronzi, you can't really build up the shade, it will not get any darker than this.
I would say this combo provides a little bit more coverage, leaning towards medium, and thus evens out slightly more the complexion. It is gives glowy and healthy veil to the skin. It feels very hydrating and fresh as soon as applied on the skin. The additional bonus is that Umbra Tinte also contains SPF(30), therefore it is a better combo option in terms of sun protection.
I am so glad I have found two product combinations that allow me to use the Supergoop! CC Screen despite its cons. Of course, I would have liked to be able to use it on its own as CC cream with SPF protection. It was the purpose of getting it in the first place. But at least, I still can use it instead of throwing it away. Besides, I don't mind mixing products. In fact, I often mix face products in the never ending quest for the perfect evened out and glowy base.
To further perfect my complexion, I buff (usually with Sonia G. Face One brush) on top of either of the two combinations a veil of the Giorgio Armani Luminous Silk Compact Powder.
I was able to find the Supergoop! CC Screen only on Revolve, which ships to Europe. It retails for €39.00 (no additional duties and taxes). Both the Drunk Elephant D-Bronzi and Umbra Tinte (each retails for €34.00) are available on Cult Beauty.