I picked up the eyeshadow palette in 02 Warrior Princess and two Power Flush Lips&Cheeks (€12,99) in 01 Natural Attitude and 02 Charming Rose (€9,99 each).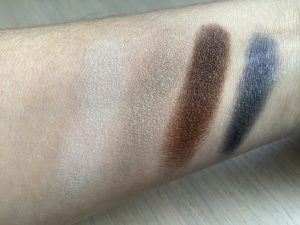 The palette is composed of two matte shades: cream and chocolate brown, and two metallic shades: a very light beige and navy.
2-in-1 cream lipstick and blush, in matte-finish shades :
Natural Attitude, a flattering neutral nude (left swatch)
Charming rose, a soft powder pink (right swatch)
The collection is still available at Kiko Milano (delivery to most countries), but hurry up if you don't miss out on this limited edition!